Posted on
BYE BYE WINTER
We'll not be sad to see the back of you!  

I love this time of year when everything feels lighter, and nature begins to come alive again.

At the minute I'm having a spring clear out in an attempt to remove anything in my life that makes me feel heavy and stuck.  

I have taken the plunge and deleted my Facebook account 🤭, and I'm now in the middle of a big clear out at home (not easy for someone who's sentimental and has a tendency to hoard!).

Since I'm in a clearing out mood, I decided to have a little detox of sorts here at B&Z and move some our current stock of towels and mats to make way for new products.

If you've been thinking about treating yourself to a new towel or mat, now's your chance! We are offering 50% off any design until Wednesday 4th April!

Pop one in your basket and your discount will be applied at checkout.
---
Pose of the month - Bananasana
Spring is a great time to target the liver and gallbladder meridians and break through winter stagnation, so for March we thought we'd take a closer look at Bananasana (a yin yoga pose) which is a great way to target the gallbladder meridian.
Go to our free classes to find out more from one of the best Yin Yoga teachers around Laura McDonald.
---
My latest obsession..
Apart from Booja-Booja chocolates (if you have not tried these you need to!), my latest obsession is TCM (AKA Traditional Chinese Medicine).
Visit our blog to read about my first experience with TCM and to find out more from our guest writer Andrew Jones from Meridian Clinic Sheffield, how this wonderful traditional system of medicine can help you to transition through to spring smoothly.
---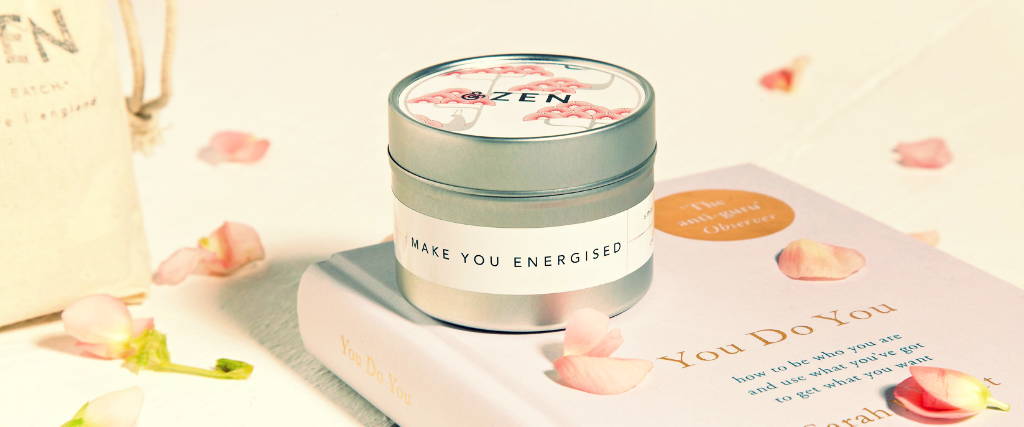 New in!
Say hello to our new Make You Energised candle.

Infused with BERGAMOT and SWEET ORANGE essential oil, it has a wonderfully energising and mood-lifting effect.

In Traditional Chinese Medicine, bergamot is used to improve the flow of vital energy. It has a refreshing citrusy scent and is thought to be particularly useful in improving feelings of well-being.

Sweet orange spreads a little sunshine on gloomy thoughts and depression. It helps to dispel tension and stress, encouraging a positive outlook.