Posted on
Here is a super easy, yet nutritious dish for when you're short on time (or just a lazy cook like me!) 
Prep time: 10 mins
Cook time: 20 mins 
Total time: 30 mins 
Serves 2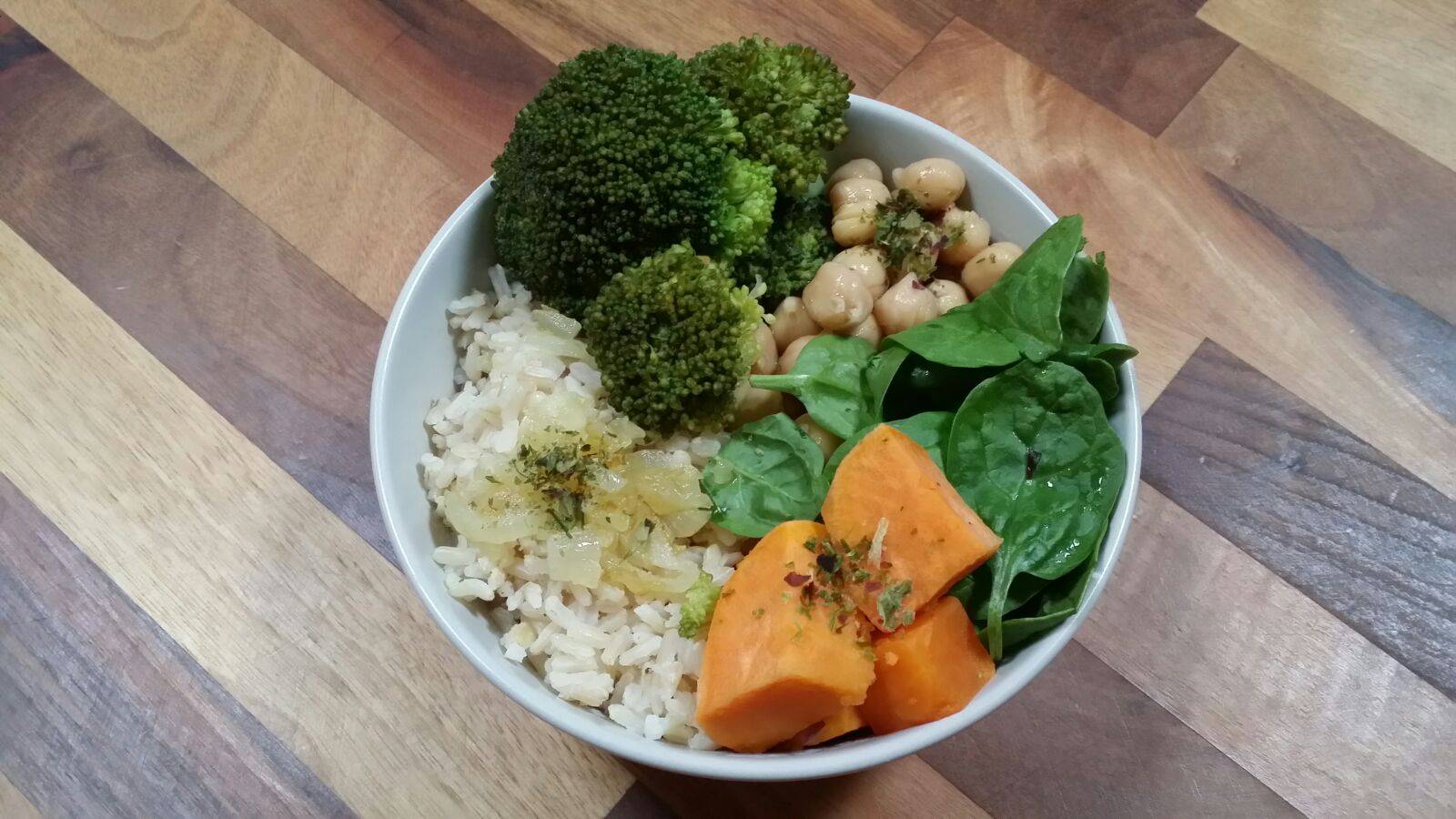 - 1/2 cup uncooked brown rice
- 3 cups of spinach, broccoli and sweet potato
- 1/2 onion, sliced
- approx. 1 tin (15.5oz/435g) of chickpeas, drained, rinsed, patted dry 
- for the dressing: tahini
1. Cook the brown rice according to instructions on the pack and cooker.
2. Prep vegetables by washing the spinach. Set spinish aside for later. Separate broccoli into small florets. Peel sweet potato, then chop into small slices. Slice onion.
3. Put broccoli and sweet potato into a saucepan on medium heat. Add half an inch of water and a pinch of salt. Put lid on, putting a spoon under the lid if there isn't a steam hole. Steam vegetables for 8 minutes, adding more water if necessary.
4. Caramalise onion on low heat with olive oil in a frying pan. 
5. Once everything is cooked, add rice to bottom of bowl . Add broccoli, sweet potato, and spinich. Add chickpeas. Either mix bowl or arrange to your desire. Drizzle two tablespoons of tahini. Serve warm.
Voila! Enjoy! 
Brown Rice 
Whole brown rice is concentrated in B vitamins and therefore beneficial to the nervous system. It is a source of protein and adds a good amount of fibre content to our diet. It is also a provider of vital fatty acids. 
Spinach 
The rich iron and chlorophyll content of spinach builds blood. Its cooling nature cleanses the blood of toxins that cause skin disease, redness and inflammation. 
Broccoli
Brocolli contains abundant pantothenic acid and vitamin A which benefit rough skin. It has more vitamin C than citrus, a high natural source of sulphur, iron, and B vitamins. 
Sweet potato
Sweet potatoes are rich in the antioxidant beta carotene, along with vitamin-C and B-complex vitamins, iron and phosphorus making them excellent immune system boosters.
Onion 
Onions with their high sulphur and inulin content, are particularly beneficial for helping the balance of flora in the digestive system. 
Garbanzo bean (Chickpea)
A good source of iron, chickpeas nourish the blood and strengthen the heart.