Bunnies & Zen | Our Story  
"Doing what you love is the cornerstone of having abundance in your life".
— Wayne Dyer
I've been procrastinating for a while now over how to present our About Us page. If I could skip this page I would, but I know it's an integral part of the website and I know that if anyone visiting our store is as nosy as me, they'll want some background information on the brand and the people behind it!  
The problem is, I consider myself pretty uninteresting. I don't have a romanticised story of how it all began. I wasn't meditating on a beach in Bali before being jolted out of the depths of meditation with visions of yoga towels and bouncing orange bunnies!
I'm just a Sheffield girl (no bronzed leggy-limbed yogi or sun-drenched beach in sight) with a passion for yoga – and you could say a bit of an entrepreneurial streak. I spend my days juggling the kids, the dogs, the husband and our little online business, all whilst trying to stay sane!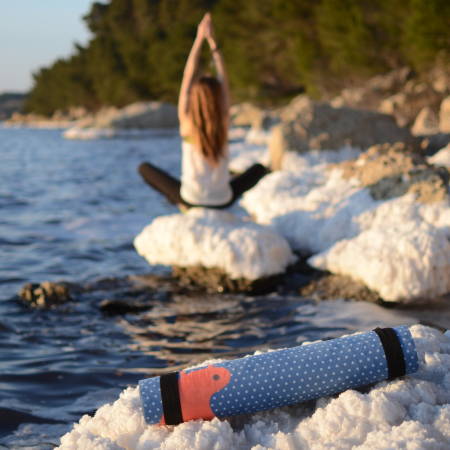 So how did Bunnies & Zen all come about?
To go back to the beginning, life decided to throw a few challenges my way in a relatively short space of time. On Boxing Day, 2010, I lost my dear Mum to an aggressive type of cancer. It was a shock; completely unexpected and it knocked me for six.
One year later in December, 2011, George (my then-fiancé) was diagnosed with Acute Myeloid Leukaemia. Another bolt out of the blue. I was eight months pregnant with our second son and still grieving for my Mum. George was rushed into hospital straight away and underwent five months treatment of intensive chemotherapy. He was allowed out once during the five months to help deliver our son.
The consultants were pleased with how George had responded to the treatment. They told us that the chance of a relapse was extremely unlikely. We were overjoyed. We felt like we had won the lottery, and we looked forward to enjoying our family together.  
Within four months George relapsed. The consultant explained that George had a high-risk Leukaemia and that he would need a bone marrow transplant by Christmas or sooner for any chance of survival. He was given a 10-15% chance to live with a transplant and a 0% chance without. But the bad news was yet to come.
We were told that George has a rare tissue type. There were 20 million donors on the worldwide register but no match for him, and finding one would be like trying to find a needle in a haystack.
Three weeks later we received a call from the hospital. A possible donor had appeared on the register. The donor needed to be contacted to see if they were willing to go ahead, and tests would need to be done to check their eligibility and health.
While we waited for further news, we planned our wedding, our honeymoon and all the things we had planned to do together. Then the call finally came and it seemed like a miracle had happened: the donor was a full tissue match with the same blood type too.
George underwent more chemotherapy, along with intensive radiation treatment in preparation for the transplant planned for Christmas. It was a long, hard road to recovery, but fortunately George is strong both physically and mentally and saw it through.
In December, 2013 (against the wishes of George's consultants) we flew to the Czech Republic and got married in the beautiful town of Cesky Krumlov . George has now reached his fifth year in remission. Every day has been a blessing.
George has now reached his fifth year in remission. Every day has been a blessing. 
Despite the happy ending, dealing with the illnesses and the death of my loved ones (I also lost my beloved Dad suddenly in 2015) triggered uncontrollable feelings of anxiety, fear and depression in me (not good for someone that loves to be in control of everything). I was eventually referred to a clinical psychologist with PTSD.
The sessions with the psychologist didn't help much, but I did find some solace in yoga. My mat was a place I could re-ground myself and find some calm and safety in the midst of the turmoil going on in my life and in my head.
I also learned other techniques related to yoga: pranayama, meditation and living by Ayurvedic principles, which really helped me to control the anxiety.
On another positive note, these life-changing events helped me to see the bigger picture and made me realise that life is too short not to pursue your dreams and be happy. It prompted me to follow my heart, take a leap of faith and set up my own business that I could run from home.
It was a natural choice to combine my passion for all things yoga with my love of design to create beautifully presented well-being products, and so Bunnies & Zen was born.
Together with George, who handcrafts our beautiful candles, we are slowly growing our little business. If truth be told, the primary objective isn't to sell (yes, of course we need to earn a living for the cynics), but it is to help others on the path to well-being, whether that be through the positive mantras we incorporate into our products, the soothing therapeutic oils in our candle blends or the well-being information we share on our blogs.
To say the last few years for George and I have been challenging is quite the understatement, but rather than feeling sorry for ourselves, we take the positives from each situation with a view that these things happened not to us, but for us. Without those life-changing events, we wouldn't be doing what we do now: living the life we wished for and creating our pride and joy – Bunnies & Zen.
We hope you enjoy our products.
- Rachel & George